Merino sheep are highly regarded for their prize-winning wool production across Australia and New Zealand. Their wool is often used for premium knitting yarns and soft-handing fabrics.
Sheep breeders are often curious about different breeds of livestock. You may be interested in meat or wool production, but also want to know the characteristics of various sheep breeds.
In this article, we'll cover some facts and give useful info on Delaine Merino sheep, so keep reading to learn more.
Types of Merino sheep
Merino is a type of fine wool sheep. Its subtypes include:
Delaine Merino
Booroola Merino
Fonthill Merino
Medium-Wool Merino
German Mutton Merino
Merinolandschaf
Strong Wool Merino
Poll Merino
South African Merino
South African Mutton Merino
What is the origin of Merino and Delaine Merino sheep?
Merino sheep origins can be traced back to Spain, the 12th century. The sheep were later sent worldwide, where breeders have developed three subtypes. Today, we have A, B, and C Merino sheep types.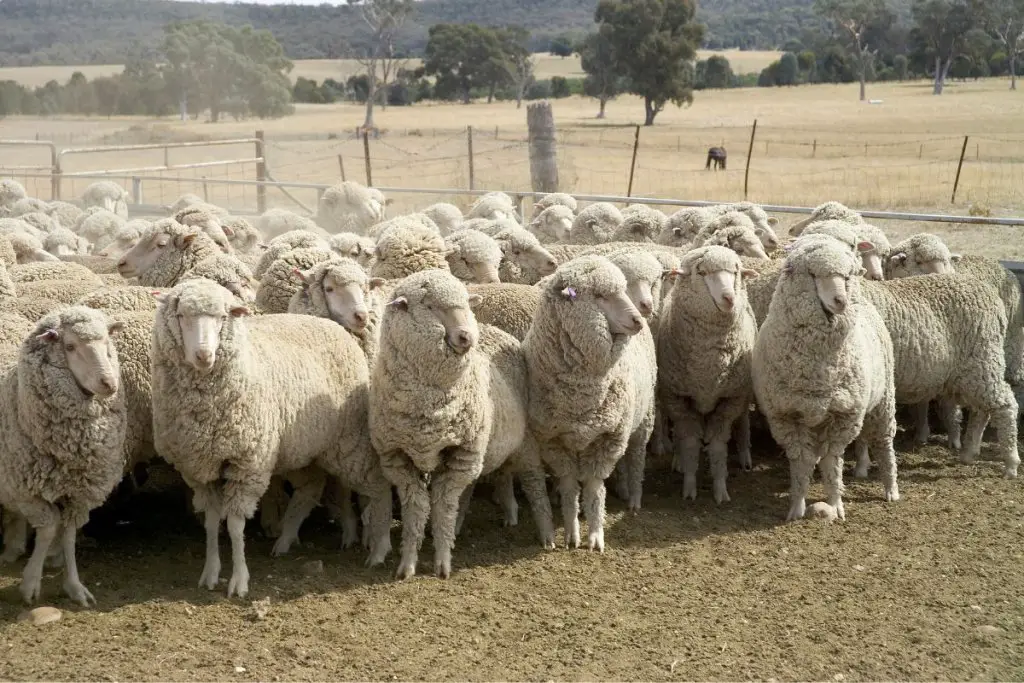 The process of selection and inbreeding in Vermont brought about type A. Type B was produced in Ohio by selection of heavy fleece, fair mutton form sheep. Type C, or Delaine Merino, also has an American origin. They can be found in a number of Western and Southwestern states, including Pennsylvania, Michigan, and Iowa.
How heavy is a Delaine Merino breed?
Delaine Merino is a medium-sized sheep breed. Ewes typically range from 125 to 180 pounds, and rams average from 175 to 235 pounds. Breeders are generally more focused on the wool quality than the weight, although heavier sheep can be produced if needed.
What is the average lifespan of a Merino sheep?
10 to 12 years is the average lifespan of this breed. Merino sheep live longer than other sheep breeds. They are adaptable to various climates and tend to keep high productiveness throughout their life.
What are Delaine Merino used for?
Delaine Merino are mostly used for top-quality Merino wool. According to the American & Delaine Merino Record Association, their fine wool regularly maintains a Comfort Factor of at least 98%. The staple length of the fleece is relatively short, ranging from two and a half to four inches.
Merino wool is often used in Stone Wool yarns. These two-ply yarns are made of 100% American Delaine Merino Wool, sourced in South Dakota. They can be used in colorwork knitting.
How much wool do Delaine Merino sheep produce?
Merino sheep are among the best sheep breeds for wool production. An average ewe produces from 12 to 20 pounds of wool per year. Both ewes and rams start producing wool at about six months and can continue to do so typically until 10 years of age.
Conclusion
If you're interested in raising sheep for fine wool, you're likely to be prosperous with Delaine Merino. Delaine Merino is a type of Merino sheep that can be found across the US, from Pennsylvania to South Dakota.
Delaine Merino sheep have a high productive life, meaning that they live long and produce a lot of wool – more than other sheep breeds. A 98% or higher Comfort Factor of the Merino wool allows it to be used for various garments, furnishings, etcetera.