Milking sheep can be done either through hand milking or using a machine. With either method, it's important to clean the sheep and avoid contamination of the milk.
How to milk a sheep
Gather the essential materials ahead of time
The first thing to do is to gather the essential equipment:
Baby wipes to remove udder grease
A milking pail to catch the milk
A cup with a strip of mesh
Filters plus a milk strainer
Glass jars with lids
Once these materials have been gathered, take the ewe you will be milking. Secure her so she won't move while you're milking her. Place her head inside a head gate or secure her by tying her.
Clean each teat and "test milk" into a small cup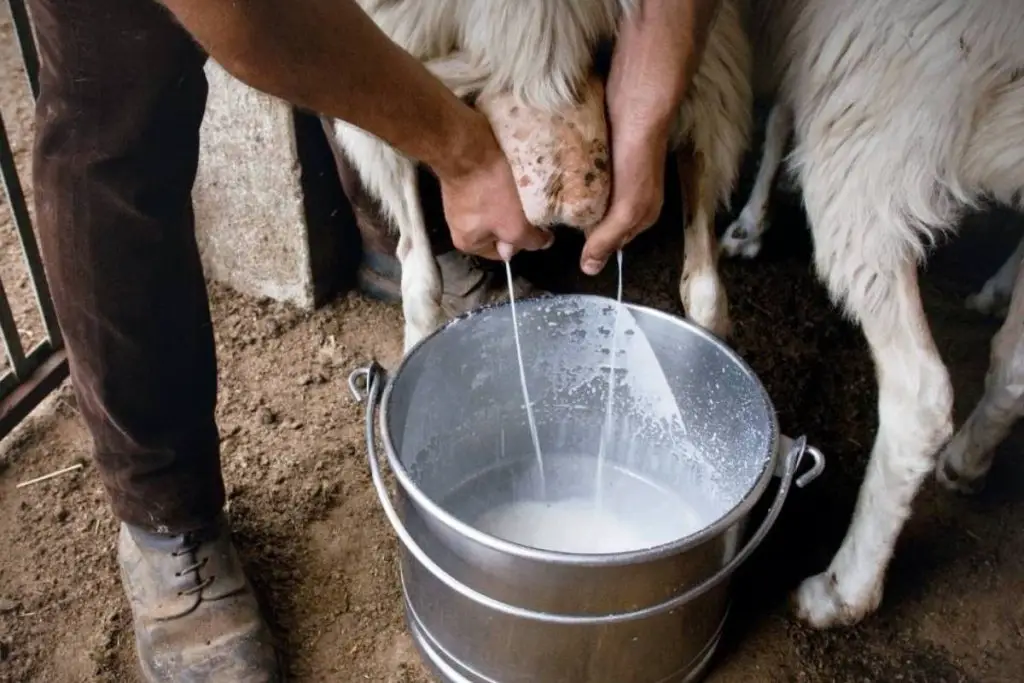 Clean the udder and teats with baby wipes or warm water. 
Carefully "test milk" each teat into a small cup before you start milking into your larger milk pail. If the milk is too yellow, has traces of blood, or is lumpy, it may be a sign that the ewe has mastitis and needs a medical check.
Start milking the sheep
There are two ways to milk a sheep:
By sitting on a stool behind the sheep, or
By straddling the sheep while you face the opposite direction and reach down towards the udders. 
The second position is preferable. It gives the milker more leverage on the teats and udders. The index finger and thumb should be tightened at the udder's base. The ring, little, and middle fingers should then be moved by pushing down to let the milk flow.
Find a rhythm
Find a rhythm that works for you. As you keep milking, you'll start to notice when the udder has less milk.
Don't try to get every last drop—there are diminishing returns. You get more milk at the start than at the last squeeze.
Thoroughly clean the equipment
Sheep milk is vulnerable to many types of bacteria. All equipment must be thoroughly sanitized to avoid contaminating the milk. 
Milking sheep by hand vs using a milking machine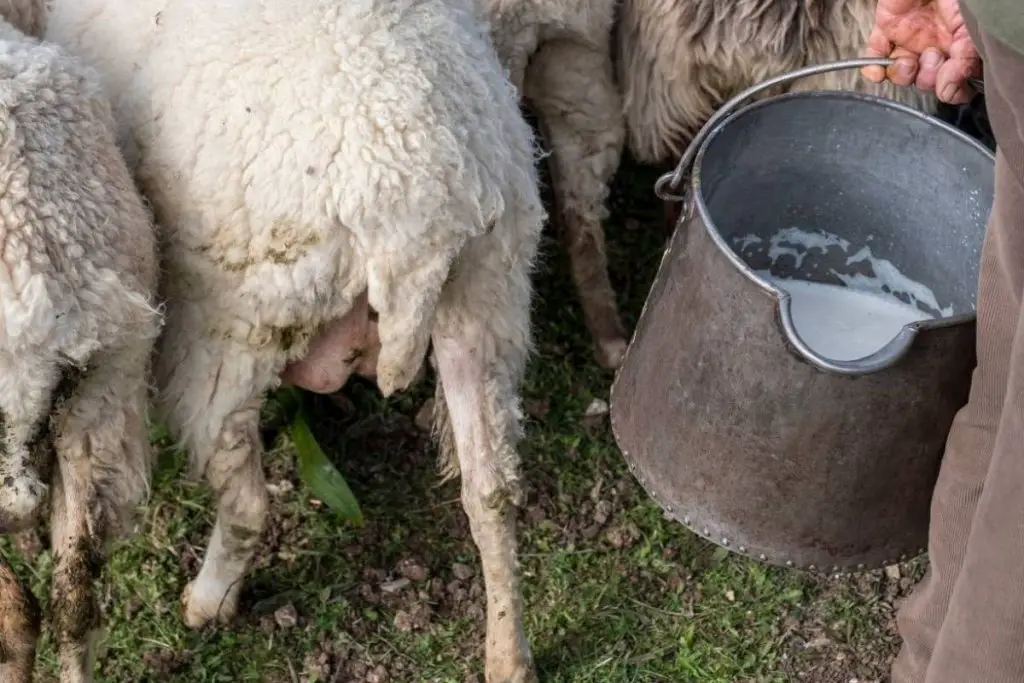 If you have just a few ewes to milk, hand milking may be the right choice for you. However, it's a slow process. Ewes may also need to be milked twice a day if they are hand milked, but a milking machine can be more efficient and finish milking ewes just once a day. 
Using a milking machine is typical for commercial farms. The drawbacks of having a milking machine include:
A higher initial cost.
Maintenance.
The need for the sheep to get used to the sound of the machine. 
Risks when milking sheep
Risks when you milk sheep include:
The sheep may poop in the milk pail. Know the warning signs so you can remove the pail.
The sheep may step in or kick the milk pail. Make sure that your ewe is relaxed and properly secured to minimize movement.