Sheep wormers improve your flock's resistance to disease and improve milk yield, wool production, and weight gain. Lambs should be wormed starting at eight weeks old, and regular worming should be performed monthly.
Why is sheep wormer necessary?
Sheep wormer improves your sheep's resistance to diseases and increases their potential for weight gain. Aside from improving your sheep's health, wormers are necessary to avoid infestation that may lead to the spread of diseases among the herd.
Some of the internal parasites and worms found in sheep are:
Roundworms
Lungworms
Tapeworms
Nematodes
Haemonchus contortus
How to know when sheep have worms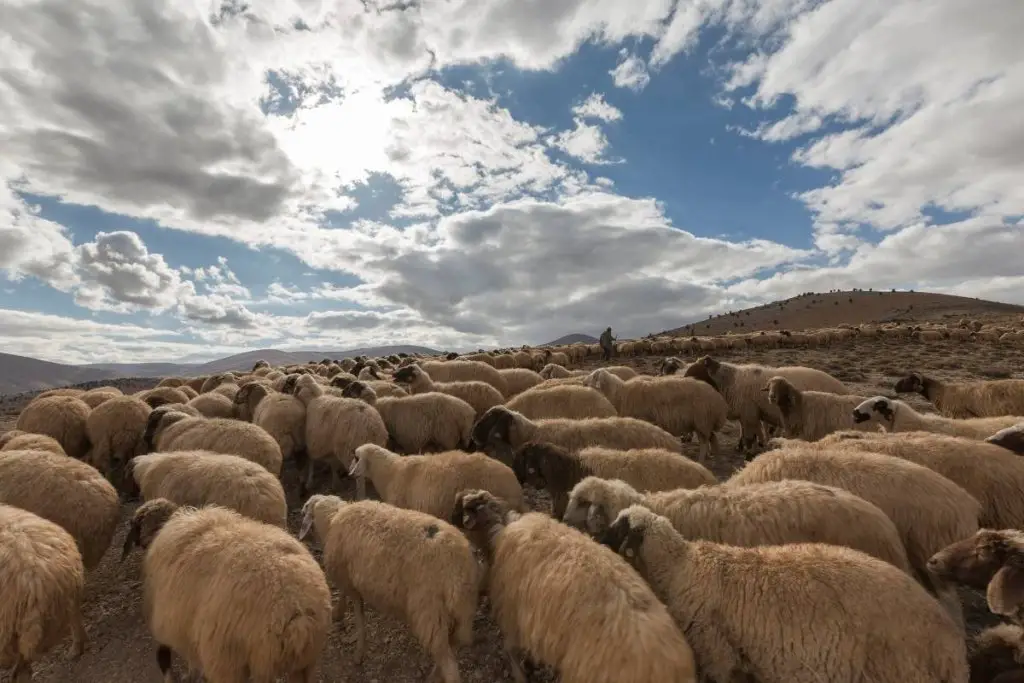 It's hard to feed sheep with worms because they don't have their usual appetite. As a result, they will begin losing fat and eventually muscles. 
Eventually, sheep will weaken and die of starvation and dehydration.
Other symptoms include:
Anemia
Profuse scouring
Staggered movements
High-risk births and pregnancies
Bottlejaw (swelling on the underside of the jaw)
Roundworms suck the blood out of the sheep and can cause significant blood loss if not addressed. In some cases, sheep may suddenly die without showing signs of suffering from roundworms.
Lungworm symptoms may look like:
Coughing
Labored breathing
Accelerated body weight loss
Reduced production of milk
Poor weight gain
Tapeworm symptoms in sheep may look like: 
Significant body weight loss
Enlargement of bellies
Emaciation
Diarrhea
When should sheep be wormed?
Lambs tend to get the most benefit from worming. Start deworming sheep as soon as they reach eight weeks old. After this, worm your sheep on a monthly basis. 
The bare minimum for deworming is at least 2-4 times per year.
What's the best way to worm sheep?
First, pick your deworming medication. Popular choices include:
Ivermectin: mostly used for gastrointestinal lungworms, roundworms, and other similar larvae
Cydectin: typically used for parasites, such as gastrointestinal roundworms
Panacur: used for immature and mature lungworms and roundworms found in sheep, goats, and cattle; may also be used for tapeworms
Safe-Guard: targets large and small strongyles (pinworms)
After choosing the medication, pick the method of administration:
Sheep drench guns: administering the medication to the throat using a gun-like medication delivery device
Sheep wormer tubes: ideal for small sheep
Side effects of worming sheep
The following are possible side effects of worming sheep:
Throwing up
Stomach pain 
Fever
Diarrhea
Lethargy
Sheep worming dosages
The following is a rough guide of the dosages for sheep with their corresponding weight.
1ml of anthelmintic medication is roughly equivalent to 1 cc.
| | | | | |
| --- | --- | --- | --- | --- |
| Dosage (in ml) | Ivermectin | Cydectin | Panacur | Safe-Guard |
| 25 pound sheep | 2.9 | 2.3 | 0.5 | 0.6 |
| 50 pound sheep | 5.7 | 4.5 | 1.0 | 1.1 |
| 75 pound sheep | 8.5 | 6.8 | 1.5 | 1.7 |
| 100 pound sheep | 11.4 | 9.1 | 2.0 | 2.2 |
Does worming sheep really make a difference?
Numerous studies have shown that worming sheep can help them put on weight at a much more significant rate. 
The study looked into three main aspects related to herd production:
Milk yield
Wool production
Weight gain
Regular worming caused each of these factors to improve.