The ratio of sheep to humans in New Zealand is 5.1 sheep per person. New Zealand had 25.97 million sheep as of June 2021. The country has about 5.1 million people. Although the population of sheep in New Zealand has been declining since 1982, New Zealand is still one of the largest wool producers worldwide.
How many sheep are in New Zealand?
New Zealand has approximately 26 million sheep. There are 103 sheep per square kilometer in New Zealand.
New Zealand has a number of sheep breeds, including:
Romney: The most famous sheep breed in New Zealand. Romney sheep are the most adapted breed to the country's climate.
Corriedale: Another renowned breed in Marlborough, Canterbury, and some parts of Otago. Corriedale sheep were developed by in-breeding the Merinos with long-wool breeds, such as Lincolns and Leicesters.
Halfbred: This breed is produced from crossing Merinos with English Leicesters or Romneys and mating the half-bred rams with half-bred ewes.
Merino: Merino sheep are the most common breed in the South Island and a favorite due to its high-quality wool and tasty meat.
Other sheep breeds in New Zealand include:
Hampshire
Awassi
Border Leicester
Australian Whites
Charollais
Dorper
Dorset Horn
Finnsheep
Lincoln
Oxford
Polwarth
Does New Zealand have more sheep than people?
Yes, New Zealand has more sheep than people. 
There are only about 5.1 million people in New Zealand and nearly 26 million sheep. That means New Zealand has over five sheep for each person.
Why does New Zealand have so many sheep?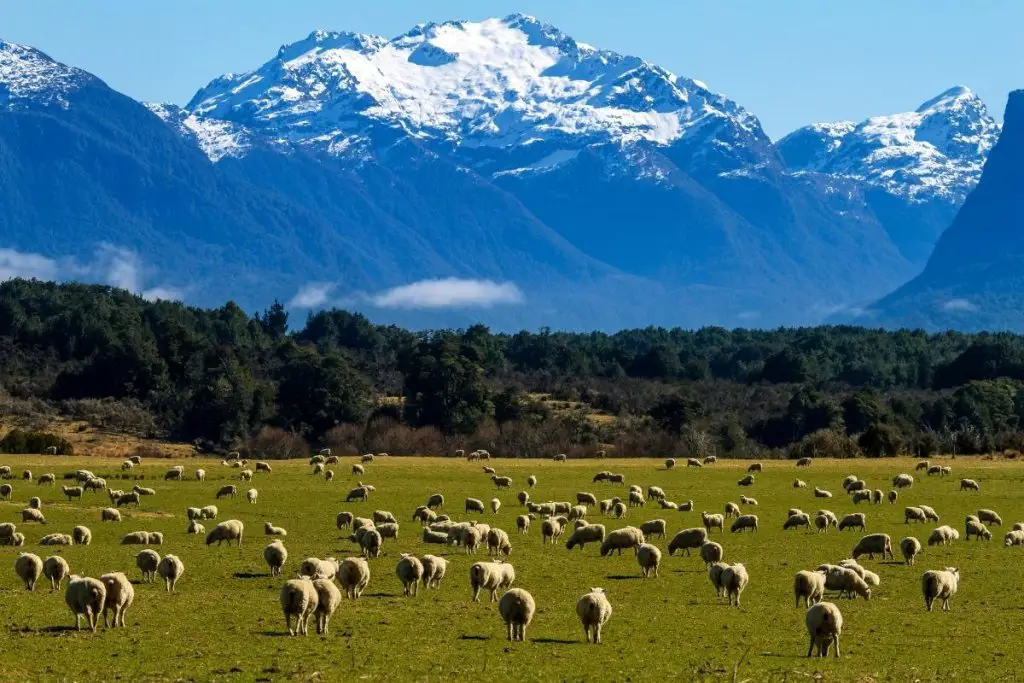 Sheep farming has been the backbone of New Zealand's economy since the 1850s. Apart from their financial benefits, the animals are a vital part of the country's cuisine. 
The meat industry has contributed significantly to New Zealand's economy. Lamb meat and wool are significant exports. New Zealand exports up to 94% of its lamb meat. The leading markets for New Zealand's sheep meat include:
China
United Kingdom
United States
Germany
New Zealand is the fourth-largest wool producer globally, after Australia, China, and the US. It's also the third-largest wool exporter, exporting 17% of wool globally. In 2021, New Zealand exported wool worth 396 million dollars. 
It exports wool in the following forms:
Raw wool, 77%
Yarns, 12%
Carpets, 10%
Its leading wool markets include:
China
India
Italy
United Kingdom
Australia
History of Sheep in New Zealand
The first sheep landed in New Zealand in 1773, when a British explorer, James Crook, released them in Marlborough.
Unfortunately, they died after a few days after consuming poisonous plants. However, sheep farming took root in the country from the 1850s and became the backbone of New Zealand's economy. The nation significantly benefitted from frozen meat exports after the establishment of the industry in 1882.
Sheep in New Zealand's Cuisine
New Zealanders consider lamb their national dish and prepare many dishes centered around lamb and mutton.
For instance, the New Zealand Sunday Roast has been a tradition that citizens have embraced for decades. The meal is comprised of mutton with roasted and boiled vegetables, including:
Sweet potatoes
Potatoes
Pumpkin
Peas
Is the number of sheep in New Zealand declining?
The number of sheep in New Zealand has been falling since 1982.
From a peak of 70.3 million (1982), the sheep population in the country has been on a downward trajectory. 
There were 40.1 million sheep in 2006, but only 29.6 million in 2015.The country saw a significant decrease in sheep population in 2020 when it faced drought.
The sheep population has been declining for many reasons, including: 
Less farmland: Unlike in previous years, there isn't much farmland for rearing sheep. Instead, more farmers in New Zealand now raise cattle and plant vineyards. Urban sprawl has also taken up more land.
Climate change: The New Zealand government plans to introduce taxes on sheep and cattle farmers to curb methane production. That means there's an incentive to keep less livestock.
Competition: New Zealand has been facing stiff competition from China in mutton exports.
Reduced demand for wool: The global wool market is declining due to the introduction of cheaper alternatives.
Which country has the most sheep?
China has the most sheep in the world, with 187 million sheep. In 2019, it contributed approximately 15% of the world's sheep population.
Other countries with the most sheep (in 2019) included:
India – 75 million
New Zealand – 74.7 million
Sudan – 52 million
Iran – 48.75 million
New Zealand ranks at position 13 in absolute terms, with 25.97 million sheep. It's also one of the countries with more sheep than people. 
Others include (data as of 2020):
| | | | |
| --- | --- | --- | --- |
| Country | Human Population | Sheep Population | Sheep to Person Ratio |
| Mongolia  | 3.3M | 14.8M | 4.5 |
| Australia | 25.6M | 85.7M | 3.3 |
| Wales | 3.1M | 9.5M | 3 |
| Uruguay | 3.5M | 10.3M | 2.9 |
| Mauritania | 4.7M | 8.8M | 1.8 |